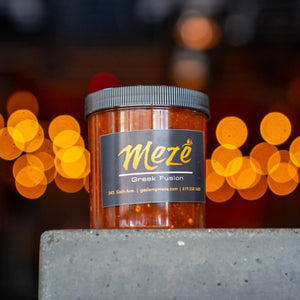 The Original Meze Greek Fusion Hot Sauce.

You are one of two people:
Happy Person: You've had it, you loved it, you smothered your food with it. Now you can repeat the cycle at home! 
Almost Happy Person: You've never had the awesome-ness of the Mezé Hot Sauce, but that's all about to change. Treat your tastebuds -- the happiness kicks in almost instantly.
Just a Tip: Our Mezé Hot Sauce is a genius gift idea for your friends & family. This way when you visit their homes you don't have to bring your own bottle...you're welcome.
Heat Level: MEDIUM
Bottled at Meze Greek Fusion, Gaslamp Quarter, San Diego.
Ingredients: 
Chili Paste, Vinegar, Garlic, Cilantro, Pomegranate Juice, Salt, Pepper